MARBLING SUPPLIES
For Sale
The following supplies may be ordered by calling 1-(405)-949-1239.
Please call Monday through Friday, between 2:00 pm and 8:00 pm (Central Time Zone).
If there is no answer, please leave a message and phone number, and we will call you back to take your order.
For more information, click on "How to Order" at the top or bottom of this page.


Carrageenan: An extract from the seaweed Irish moss. This is a powdered gelatin, which you mix with water in a blender to form the "size" on which the colors float. No boiling necessary. Even though there are many kinds of gels and thickeners available, nothing has been found that works better for marbling size than carrageenan. It is a non-toxic food product, and will not harm you or your blender. Yes, carrageenan is expensive, but there is enough in the half-pound bag to make up to 300 papers of the 9½" x 12½" size.
Half-pound bag.........................$25.00
One-pound bag..........................$48.00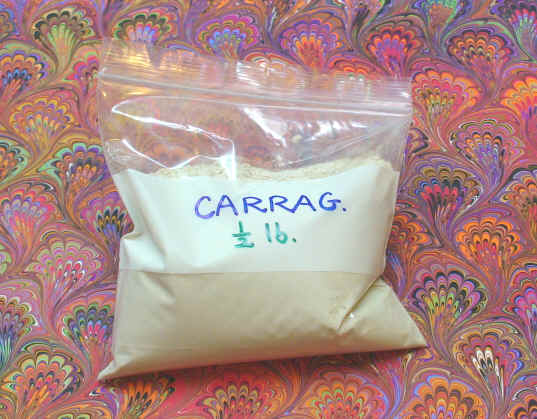 More information on how to use Carrageenan.
Alum (aluminum sulphate): Serves as a color binder. Makes the color stick on the paper or fabric -- very important! Each sheet of paper or fabric must be coated with dissolved alum before you marble it -- if you don't put alum on your paper or fabric, the color will rinse off. This is pure aluminum sulphate, and doesn't contain other unnecessary chemicals like potassium or ammonium (which are often found in the alum used for pickling or for gardening).
Half lb. bag...........................$ 5.00


More information on how to use Alum.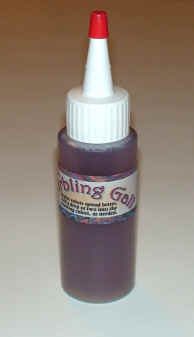 Marbling Gall: A wetting agent. Makes colors spread on the surface of the size. You must add a bit of gall to most colors to make them float properly, and to control how much they spread. If a color is not spreading, or is sinking, give it a drop or two of gall. Also, gall is necessary for some patterns such as the Stone Marble and the Italian Vein. This is not the traditional oxgall, from a cow... genuine oxgall is not strong enough to work with acrylic colors; our gall is actually a type of detergent and works much better (and doesn't smell bad).
2 oz. bottle...........................$ 5.00
More information on how to use Marbling Gall.




MARBLING TOOLS:
The following 6 tools are made to fit a standard-size (11½" x 17¼") baking sheet or cookie tray, which can be used as a marbling tray to hold the size. A clear plastic 11" x 14" box picture frame can also be used as a tray. The tools are made of a strip of wood with metal pins or nails for the teeth. We make all of them ourselves right here at our workshop.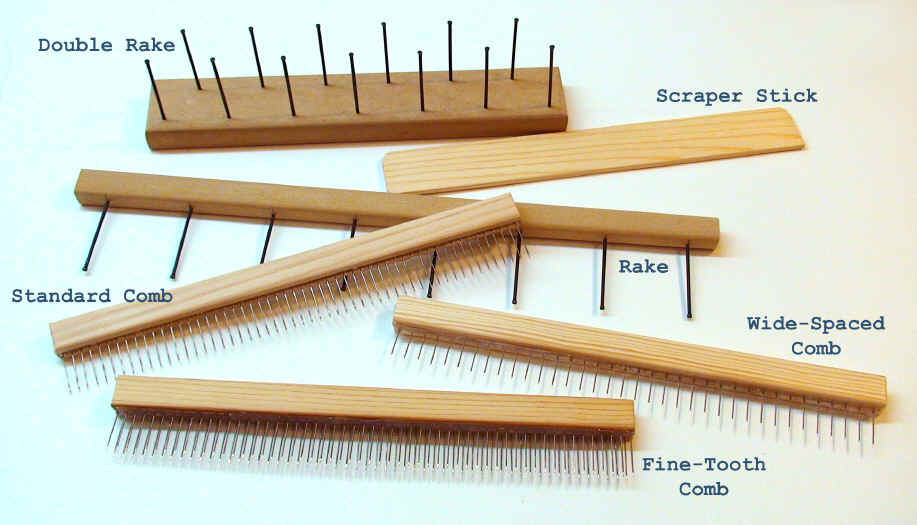 Standard Comb: Used for making the Nonpareil pattern (sample shown below), and used as a preliminary step for making the Bouquet, Feather, and several other patterns. Five teeth per inch. This is the standard spacing for a traditional Nonpareil. If you are only buying one comb, this is the one you should get.
11" long...............................$12.00


More information on how to use the Standard Comb.
Wide-spaced Comb: Used for making a slightly wider-spaced Nonpareil pattern, and is especially useful for up-and-down combing (Chevron). Four teeth per inch. A comb like this was used to make patterns #4-Birdwing, #12-Thistle, and #18-Chrysanthemum.
11" long...............................$12.00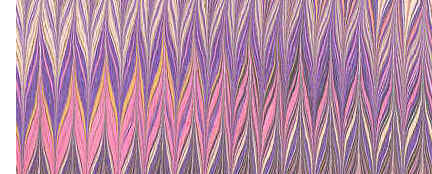 More information on how to use the Wide-spaced Comb.
Fine-tooth Comb: Used for making very fine-combed patterns. Ten teeth per inch. This comb is used just like the standard comb above, but makes a more detailed, intricate pattern. A fine-tooth comb was used to make patterns #21-Swirl, #23-Butterfly, and most of the samples at #3-Peacock. These combs have to have a double row of teeth, slightly off-set -- if the teeth were all in a single row, the carrageenan and colors wouldn't flow through easily, and even the tiniest specks of dust would get trapped by the teeth and cause a streak or flaw. These are harder to make, so they cost more than the other combs.
11" long...............................$20.00

Rake: Nails spaced at 2". Used alone or in addition to the comb, for making patterns such as the French Curl, Feather, and Birdwing. The rake is usually used lengthwise in the tray, so it is longer than the other tools.
14" long...............................$ 5.00

Double Rake: Nails spaced in 1½" triangle patterns. Used alone or in addition to the comb, for the Bouquet, Peacock, Frog Foot, and Thistle patterns.
10½" long..............................$ 8.00

Scraper Stick: Used to skim the excess paint from the surface of the size between prints. Fits into a standard cookie tray.
11" long...............................$ 2.00

The following 6 tools are similar to the ones above but are twice as long, to fit larger trays. You can cut them down if they are too long for your tray.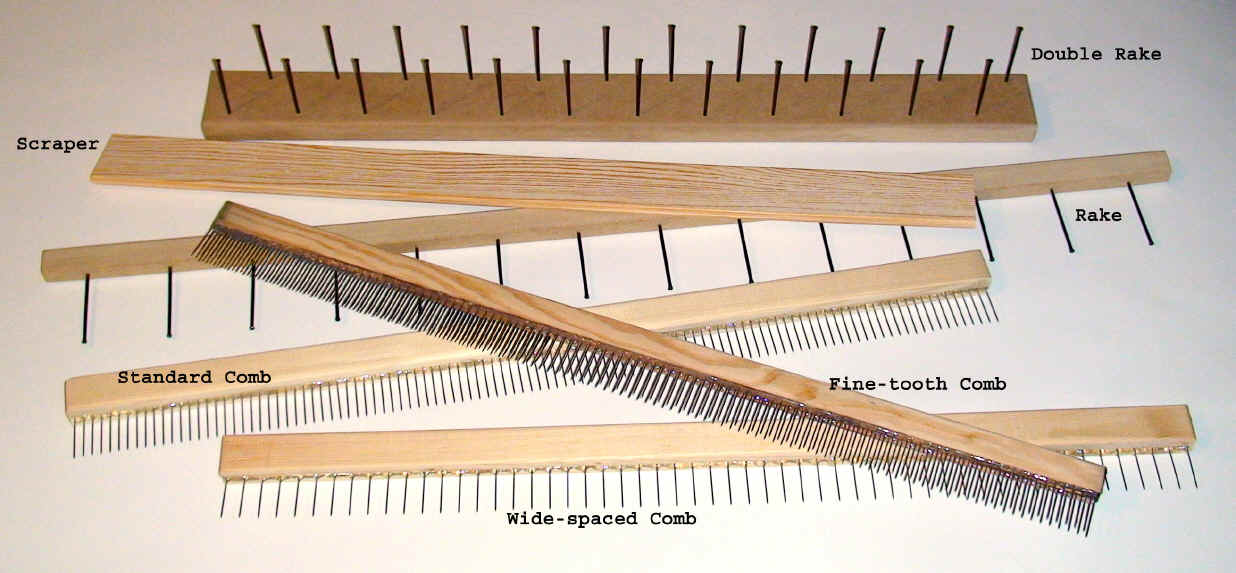 Standard Comb
(about 5 teeth per inch, or 5 millimeters apart)
22" long, two teeth per centimeter.....$22.00
Custom-made lengths....................$ 1.50 per inch
Wide-spaced Comb:
22" long, one tooth per centimeter.....$22.00
Custom-made lengths....................$ 1.50 per inch
Fine-tooth Comb: Used for making very fine-combed patterns.
(about 10 teeth per inch)
22" long, four teeth per centimeter....$39.00
Custom-made lengths....................$ 2.50 per inch
Rake:
28" long...............................$12.00
Double Rake:
22" long...............................$14.00
Scraper Stick:
22" long...............................$ 4.00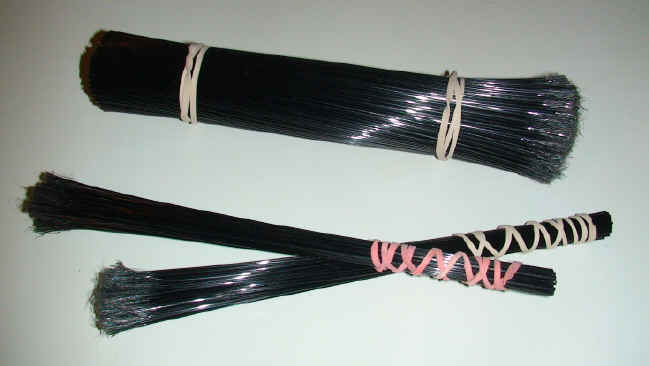 Plastic Broomstraw: This is a bundle of black broomstraw, containing enough straw for you to make 10 to 12 whisks (by wrapping a rubber band around the end of about 50 strands, as shown). Used for sprinkling paints onto the size. Even though many marblers still use natural broomstraw, plastic whisks are better since strands don't break off and fall in your tray, they don't get waterlogged and limp, and you can wash them out and use them over and over with different colors. Will last for years.
Don't bother using eyedroppers to apply your paint -- they put out drops that are way too big, which will sink; and working with them is very slow, putting your paint on one drop at a time. These broomstraw whisks will sprinkle dozens or hundreds of small drops at a time. Small drops will float; big drops will sink!
You should make one whisk for each color of paint you will be using.
.......................................$ 5.00 per bundle
More information on how to use Plastic Broomstraw.

Marbling Trays: We do not sell individual marbling trays (though our marbling kits below do contain a tray). Several items can be used as a tray, or you can make your own tray. See more information and instructions here: Marbling Trays.



Texoprint Paper: A very durable 55-lb. white paper, with a slight latex content, which makes it great for marbling since it is not harmed or weakened when it gets wet, it won't rip or tear easily, and doesn't shrink or wrinkle when it dries. Great for bookbinding. This is an industrial printing paper, which you won't ever find in art supply stores. I have been using this paper exclusively for all my marbling, for over 25 years now. Grain goes long way.

9½" x 12½" sheets......................$ .25 each -- (minimum order 10 sheets)
19" x 25" sheets......................$1.00 each -- (minimum order 10 sheets)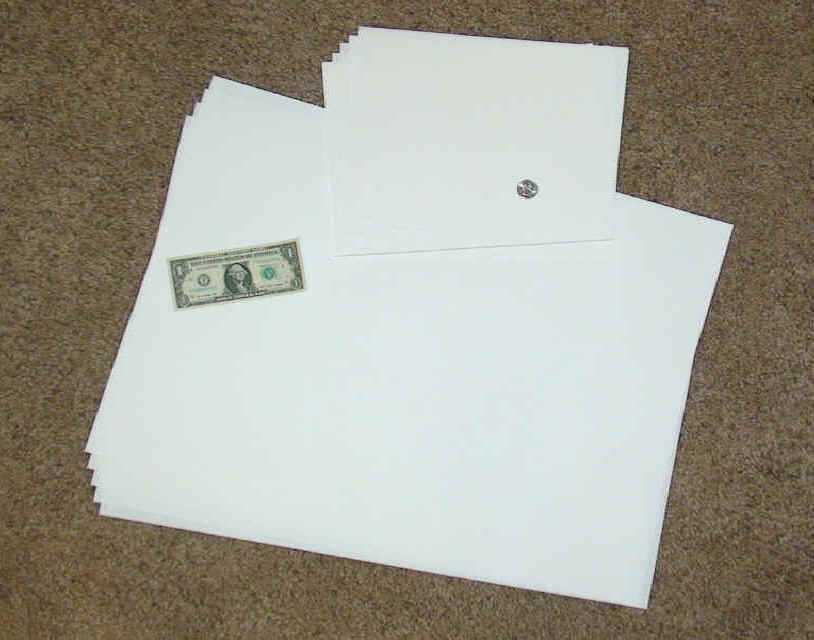 More information on how to use Texoprint Paper.

"THE ART OF MARBLING" booklet: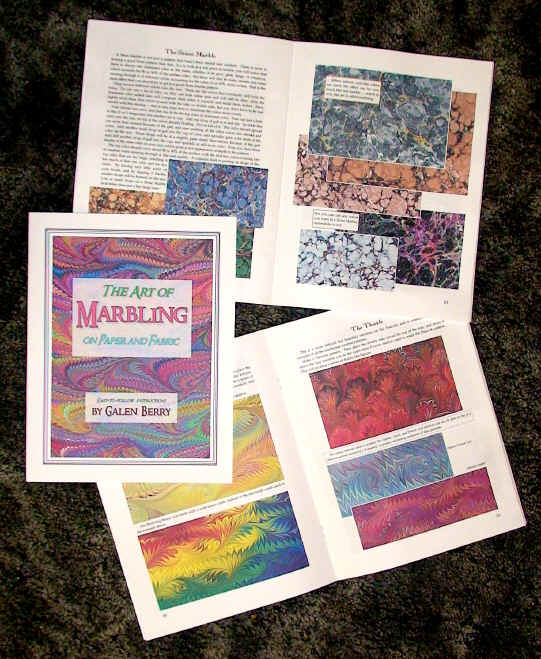 This is a very detailed full-color booklet
with complete and easy-to-follow instructions
on how to marble both paper and fabric.
Great for beginners.
Contains directions for making 28 different
marbled patterns, such as the Peacock,
Spanish Wave, French Curl, Thistle, Birdwing,
Moiré, Ripple, Stone Marble, Nonpareil,
Feather, Italian Vein, and Antique Spot.
Overmarbling and Masking are also discussed.
Full details are given on how to prepare the
alum and carrageenan, and how to mix colors,
use the gall, and prepare the paper.

Suggestions for projects using marbled papers
are included. A section on solving marbling
problems is at the end.
Trying to teach yourself marbling without a
good instruction book will cause lots of
wasted paint, paper, time and supplies.
Having a good book will actually save you money!

Written and illustrated by Galen Berry.
40 pages............$15.00
Mouth Atomizer: Used for making the Italian Vein pattern, or for doing Overmarbling. This small tool is what was used before spray cans were invented! Put the long end into the liquid, and blow (hard) through the short tube, which has a little plastic mouthpiece. A fine spray will result. You can blow diluted paint through it too, but it takes more effort.
.......................................$ 6.00
More information on how to use the Mouth Atomizer.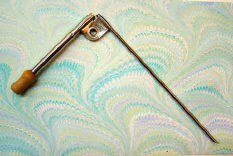 Marbling Paints: These are acrylic paints in 4 oz. jars, mixed to the right consistency for marbling -- no need to dilute. To be used only with carrageenan size (not methyl cellulose); suitable for marbling on both paper and fabric. Any of these colors can be mixed together to get new shades.
Acrylic paints have only existed since the 1950's, so of course marblers in the past didn't use them -- they used paints such as gouaches, or opaque watercolors. But those colors were not waterproof... if a sheet of their marbled paper ever got a drop of water on it, or a wet finger, it could smear. So every paper in those days had to be coated with beeswax to protect it, a laborious process. But acrylic, which is a liquid plastic, dries permanently; you can't even smear it if you try, after it has dried. So for that reason most marblers have switched to using acrylic paints nowadays.
Acrylics have also made fabric marbling practical for the first time in history -- the watercolors used in the old days would never have survived washing. But acrylics, once they are heat-set into the fabric, are quite durable; so after marbling your cloth, iron it on the back side to fuse the acrylic into the fiber. Hand wash in cold water when necessary.
But not all acrylic paints work well for marbling. Most artist acrylics available in stores, even some of the finest brands, do not work well -- they may be great for painting, but when used for marbling they spread too much and become very pale. And cheap craft acrylics don't contain enough pigment. Our paints are specially made just for marbling.

Black should be applied as the first color on almost every sheet you make (unless you want a more pastel-colored sheet), since it will then outline all the other colors and make the whole sheet look richer, with more depth. Gold and copper have metallic mineral flakes instead of pigments, and do not stick well on cloth. Most marbled papers have at least 6 colors in them, though more or less can work well too. The more colors you have, the better, otherwise all your papers will start to look alike!
Colors below are just approximations and may not look accurate on some screens.



Black.......$5.00

Gold........$5.00 .


Red.........$5.00

Copper......$5.00 .


Blue........$5.00

Teal........$5.00 .


Green.......$5.00

Indigo......$5.00 .


Yellow......$5.00

Brown.......$5.00 .


Purple......$5.00

Viridian....$5.00 .


Orange......$5.00

Cerulean....$5.00 .


Pink........$5.00

Lavender....$5.00 .


White.......$5.00

Beige.......$5.00 .


Grey........$5.00

Ochre.......$5.00 .


Turquoise...$5.00

Russet......$5.00 .
Empty Plastic Jars: Ideal for mixing and storing paints. 2" wide, 2½" high.
4 oz. jars, with lids...........$1.00 each


Basic MARBLING KIT: Contains everything you need to learn marbling, except the paints. (Paints are sold separately so that you can order whichever colors you want -- see the list above.)
Included: carrageenan, alum, marbling gall, sponge, marbling tray, standard comb, rake, plastic broomstraw, stirring stick, skimming strips, samples of real marbled papers, and a full-color 14-page detailed instruction booklet. The kit also contains 24 sheets of Texoprint paper. (However, there is enough carrageenan, alum, and gall in the kit to print up to 300 sheets, so you may wish to order extra paper, or use paper you already have.)
With this kit you can produce professional-quality marbled papers. The paper included is 9½" x 12½" size, though the tray will hold paper or fabric up to 11" x 16". For larger sheets, you will eventually need to buy or construct a larger tray, but this kit is great for those who are just starting to marble -- it is much easier and quicker to learn on smaller sheets. Instructions are included for fabric marbling also.
This kit teaches you all the basic marbling techniques and patterns, in a simple and easy-to-understand format.
Basic Marbling Kit............$69.00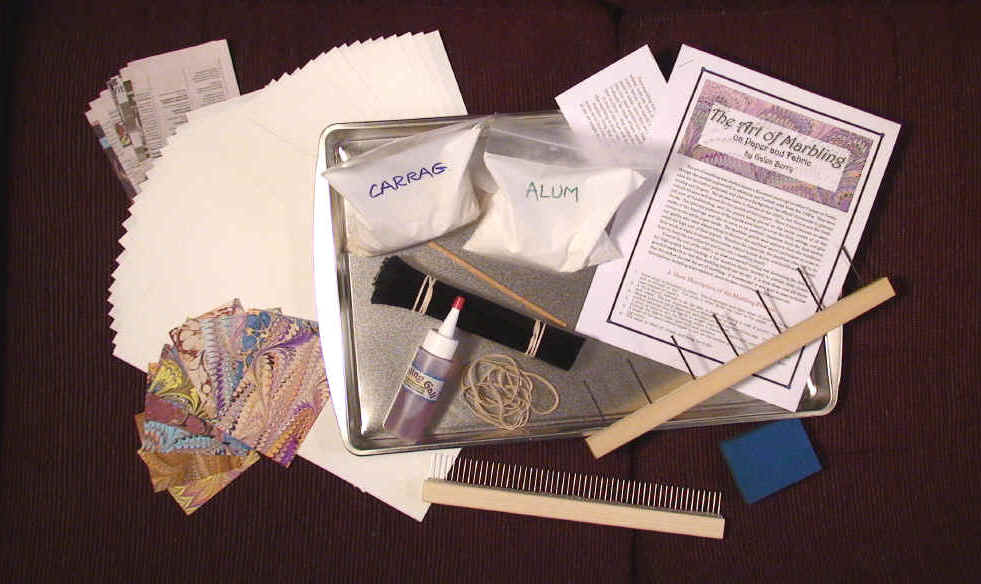 Deluxe MARBLING KIT: With this kit, you can produce all the basic marbling techniques and patterns, plus many more advanced patterns and designs.
Contains everything in the kit above, plus these additional items: double rake, wide-spaced comb, extra bundle of broomstraw, 24 additional sheets Texoprint paper, with a 22-page full-color instruction booklet. (The kit contains a total of 48 sheets of Texoprint paper. However, there is enough carrageenan, alum, and gall in the kit to print up to 300 sheets, so you may wish to order extra paper, or use paper you already have.)
This kit also does not contain any paints. (Paints are sold separately so that you can order whichever colors you want -- see the list above.)
Deluxe Marbling Kit...........$89.00