Attention! Large US Mail price increases!
As of January 17, 2016, the post office is actually doubling some of its prices.
For instance, a package of 5 lbs going from here in Oklahoma to Texas was $5.45, and is now $10.95!
A package of 5 lbs going from OK to Chicago which was $7.55 before is now $13.45.
They have eliminated all business rates and regional shipping prices for small businesses.
FedEx and UPS also increased their prices in December 2015; however, US Mail is still cheaper than they are for small packages.
There is nothing we can do about all this, so we are sorry for the greatly increased prices. We always compare prices, and send your order the cheapest way.

To place a credit card order for marbling supplies and products, call:

1-(405)-949-1239
You may call Monday thru Friday from 2:00 pm to 8:00 pm (Central Time Zone).

If no one answers, please leave a message and we will call you back to take your order.
Your call back may come from our other office in Oregon:
503-665-3491 (Pacific Time Zone)



Or you may MAIL in your order plus a check to: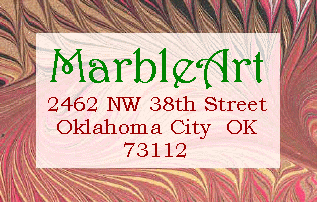 For USA addresses: please add at least $10.00 for shipping on mail orders for marbling supplies,
or more for large or heavy orders, such as a lot of paints. Or call us for a shipping estimate.
If you are only ordering a booklet, shipping is $2.00
If you are only ordering a pack of notecards or bookmarks, shipping is $2.00

We can only ship within the US and Canada.
Shipping to Canada: prices to Canada can be quite high --
ask us to calculate the shipping cost and approve it with you before shipping.
We don't ship to other countries, because carrageenan and alum look like little bags of white powder! -- meaning they may be confiscated going through customs.
Also, the paints and gall can leak from air pressure during long flights overseas.
So even if we tried to ship orders overseas, you would probably not receive a complete order, or they would return it to us.

Shipping Prices:
Shipping prices have gone way up in the last few years. UPS and FedEx Ground add a "fuel surcharge" depending on the distance.
They also add $2.50 as a "delivery area surcharge" if you live in a small town or out in the country.
They also charge from $3.00 to $5.00 extra if you are having your order shipped to a home address instead of a business!
So you can save that by having us send your order to your work or school address, if you wish.

If your order will fit into one of the special boxes provided by US Mail, that is usually the cheapest way to ship.
We compare shipping prices on every order, and will send your package by the cheapest method.
We do not try to make any profit from mailing costs!
We just charge you whatever it costs us for shipping.






Marbling@aol.com

You may also E-Mail us your order.
Click on the button above and then tell us the items you wish to order, plus your name, address, and phone number.
We will call to get your credit card number.




To pay with PayPal, give us the e-mail address that is linked to your PayPal account when you write us or call us,
and we will send you a bill for the total amount of your order.